2 wheels. go.
Mountain-Bike
& E-Bike

Bike & E-BIke
Biking is an excellent way to explore this very special place: St. Anton rocks when it comes to the hard tail, soft tail, off-trail fun of mountain biking, offering a spectacular 350-kilometer mapped complex of off-road trails and single track. St. Anton has it all, from easy-going dirt roads to rugged single track for all ability levels that will keep avid mountain bikers here longer than expected.
With almost endless riding opportunities and spectacular vistas around every corner, St. Anton is a dream destination for mountain bikers. The vast expanses of public lands surrounding St. Anton offer seemingly endless mountain bike trails for two-wheelers. There is a wide range of biking tracks and trails for all styles of biking and all levels of fitness… whatever your mountain biking style, St. Anton's got the terrain to suit everyone's kind of ride. Hour long, day long or multi-day - you choose.
All mountain biking tracks start right from the ARLBERG-well.com at the village center and take you on a scenic journey. (Interactive Map)
To get into the groove, head out on the 15-kilometer Stanzertal Cycle Path Trail that links St. Anton with St. Jakob, Pettneu and Schnann. Graded easy, this path offers an unbeatable combination of fun riding and spectacular riverside scenery.
Another good option for beginners is the track that winds into scenic Verwall Valley before skirting around Verwallsee, one of Tirol's most beautiful mountain lakes.
When you're ready to wind things up a bit, hit the trail across Moostal Valley and climb all the way up to Darmstädter Hut, which is open from late June through mid-September – a wonderful place to enjoy some hearty local fare after the ride.
During the summer months, Arlberger Bergbahnen keep some of its gondolas and chair lifts cranking to access some long downhills complete with breathtaking Alpine scenery.
bike-fun
EldoRADo:
Bike-Area Verwall

Mountain bikers will find plenty of fun throughout the Bike-Areal Verwall with pro-built Pump Track, Northshore Trail, Drop Offs and E-Trial Course crisscrossing the slopes in pretty Verwall Valley. Catering mainly to beginners and intermediate riders, it offers an exciting blend of rides and gentle downhills. For little ones, there's a special Kids' Course.
The Bike-Areal is open daily from 10:00am to 6:00pm during the warm summer months. Protective equipment and bike rentals are available on-site.
Hop on an E-Bike
An e-bike is simply an electric bicycle, equipped with a small motor that helps you pedal with ease. Fans swear an electric bike is just like a regular bike only better, because you can cover more ground in less time. Mountains and headwinds also aren't problems, meaning you don't even have to break a sweat — unless you want to. Starting out is easy. St. Anton is home to many friendly bike shops ready to get you in the saddle.
Good to know: One guided E-Bike Tour (including bicycle rental) is free for St. Anton Summer Card holders.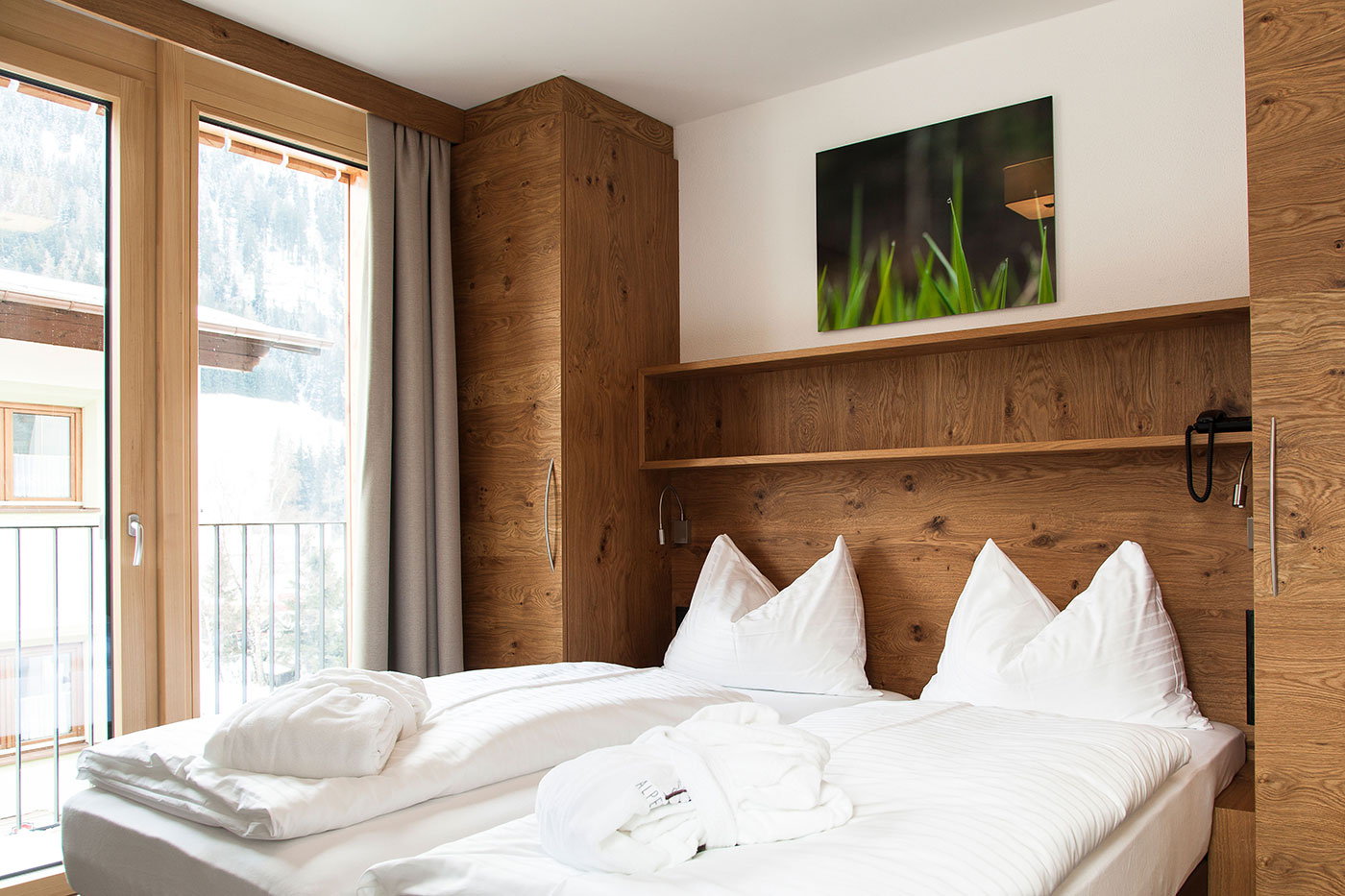 Living
Apartments &
Rooms